The Global Offshore Oil And Gas Pipeline Market Will Grow Substantially In The Next 4 Years
According to reports, the global offshore oil and gas pipeline market is expected to grow by US$2.79 billion from 2020 to 2024, with a compound annual growth rate of more than 4%. Technavio expects that the new crown pneumonia epidemic will have a negative impact on the market, delaying several oil and gas pipeline projects around the world. However, once the business process and investment activities of the oil and gas industry return to normal, the market is expected to gradually accelerate the pace.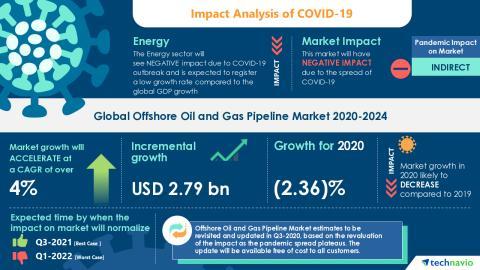 A senior analyst in the energy industry at Technavio said: "One of the main growth drivers of this market is the increase in global energy demand. The acceleration of industrialization and urbanization in developing countries such as India and China has greatly increased the global oil and gas industry. In addition, the expansion of existing gas-fired power plants and the emergence of new power plants have increased the demand for offshore oil and gas pipelines and promoted market growth."
The annual growth rate of the offshore oil and gas pipeline market in 2020 is expected to be -2.36%. The natural gas pipeline market has the fastest growth in 2019. The growth of this segment can be attributed to the abundance, versatility, and clean combustion characteristics of natural gas. During the forecast period, the growth of this market segment will be significant.
From the perspective of different regions, 53% of the growth will come from the European region. The growth of the European market is driven by various measures taken by countries in the region to ensure energy security. Norway is the main market for offshore oil and gas pipelines in Europe, and the country's offshore oil and gas pipeline market is growing faster than other regions.
Related News
Related Industrial Valves