3D Solid Waste Printing of SpaceDicon contributes to a Carbon Free Winter Olympic Games
With the holding of this Winter Olympic Games, various urban landscapes full of Olympic theme colors appear in the vision of the people. Among them, the white "snowflakes" made by 3D solid waste printing technology are particularly eye-catching in the Winter Olympic theme flower beds along Chang'an Street in Beijing.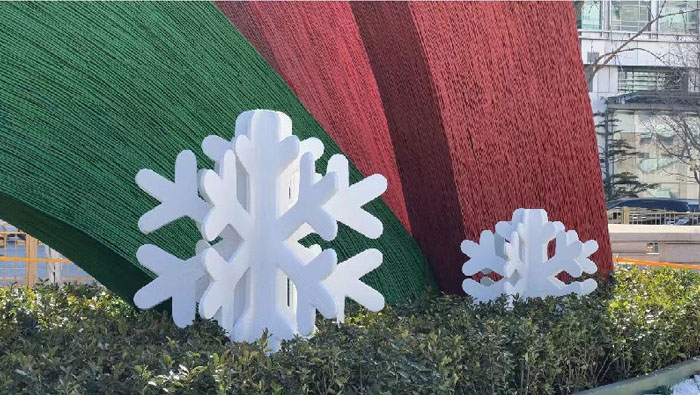 The printing material of the snowflakes in the flower bed with the theme of "Wonderful Winter Olympics" is tailings type solid waste. Combined with the application of bulk solid waste such as fly ash and mineral powder in the printing solid waste material, the utilization rate of solid waste material reaches more than 75%, which is consistent with the concept of Green Olympics.
SpaceDicon Technologies Company, as the 3D Solid Waste Printing Service provider of the Winter Olympic Games, provided the 3D printing white "snowflakes" in the flower bed display. In just 8 days, SpaceDicon completed all processes from modeling, programming, preparation materials, printing, maintenance, assembly, spraying to final delivery, fully demonstrating the team strength.
3D printing is an intelligent manufacturing technology that originated in the 1980s and integrates machinery, computer, numerical control and materials. At present, it has played an important role in medical treatment, aerospace, automobile and other fields. It is believed that its application in architecture will play a more and more extensive role with the progress of technology and public recognition.
Since its establishment, SpaceDicon has been committed to the R & D and application of building 3D printing materials and printing technology, using bulk solid waste as the main printing materials. SpaceDicon can flexibly adopt integrated molding and modular methods to provide personalized 3D printing products, which has the advantages of green energy saving, efficient molding and green environmental protection.
Related News
Related Industrial Valves